Frequently Asked Questions
General Questions About the Trial

What do you hope to find out from the trial?
We hope to find out which operation gets people back to normal activity the quickest. Which operation has the least risks and how much each operation and after care costs the NHS. This information will help the NHS know which operation to offer patients based on evidence.
Patient Experiences video
Equipoise and Consenting video

Is there an information leaflet about the UK Mini Mitral trial?
Yes. All research trials must have an approved participant information leaflet. If you would like a copy please contact your nearest participating hospital or the sponsor site (The James Cook University Hospital).
Get in touch

How do you choose patients for the trial?
If your heart doctor thinks your mitral valve may need surgical repair you are referred to a cardiac surgeon. Referrals are screened to see if you 'may' be eligible to participate in the trial. Often this is when you may be sent trial information or contacted by research staff. Your surgeon will decide if you are eligible for the trial, but it is your choice if you decide to take part or not.

How do you decide which operation I will get?
A computer decides which operation you will have this is to make sure both operation groups are equal. For example we would like to have equal numbers of males or females and equal age ranges etc. The computer is better at making sure this happens.
Equipoise and Consenting video

Can I change the operation I get randomized to?
No. If you are unhappy with the operation the computer gives you, please talk to the research staff. If after discussion you still want to change your operation you will be withdrawn from the trial. Staff will respect your wishes and your care will not be affected.

Do I have to take part?
No you do not have to take part. You can come out of the trial without giving your reasons at any time. Staff will respect your wishes and your care will not be affected.

Can I change my mind?
You can withdraw without giving your reasons at any time. Staff will respect your wishes and your care will not be affected. If you decide to withdraw you may be asked if we can still collect information from your medical records for use in the trial.

Do I need to come back to the hospital for the trial?
You will be asked to come into the hospital for a heart scan a year after your operation. The early heart scan is often done before you are discharged after surgery, or alongside normal follow up appointments. To cover travel costs you will be reimbursed £20 for each 'trial' visit to the hospital. This does not cover other appointments that are part of your ongoing normal care.

I would like to participate in the UK Mini Mitral trial. Who do I contact?
Thank you for wanting to participate in the trial. We recommend you contact your nearest participating hospital or the sponsor site (The James Cook University Hospital).
Link to contacts page
The Operation and your Care

How long have they been doing each operation?
The 'key hole' (minimally invasive) technique to repair the mitral valve was introduced in the 1990's. The conventional approach to repair the mitral valve (through the breast bone) has been performed for even longer.

Are the operations safe?
All operations have risks and each person is different. Your surgeon will talk about your individual risks with you. This trial has ethical approval because both operations have a good safety record, but we want to compare them with each other.

Which operation will get me home quickest?
We don't know! This is what we hope to learn from this trial.

Do I still see my normal doctors?
Yes. You will see the surgical team until they discharge you from their care. Then your consultant cardiologist will take your care back over. You will also continue to see your GP, and other health care professionals who will support you before and after your operation.
Trial Data

Will I find out the results of the trial?
Yes. We plan to inform all participants of the results, but because this is a 4 year trial it will be a long time before we will be able to do this.

How is this trial monitored?
The trial has been ethically approved by external agencies to ensure your well-being is protected. This trial is monitored by Newcastle Clinical Trials Unit and all participating hospitals are regularly inspected to make sure the trial is being carried out correctly. All participating hospitals are trained and experienced in running research trials.

Will my details be anonymous?
When you enter the trial you will be given a unique identification number (you do not need to remember this). This number will be used by the research team. When we publish the trial results we will not use information which could identify you. For more information about how your personal details are used in this trial please speak to the research team at your participating hospital or the sponsor site (The James Cook University Hospital).
Get in touch

Who do I contact to ask a question or raise a concern?
If you have any questions or concerns please contact any of the following:
The surgeon or nurse at your hospital.
Mr Akowuah. Chief Investigator, Principal Lead Investigator at The James Cook University Hospital.
Or Karen Ainsworth, Lead Nurse for the UK Mini Mitral Trial at The James Cook University Hospital.
Newcastle Clinical Trials Unit. Faculty of Medical Science Newcastle University
Newcastle-upon-Tyne
NE2 4AE
nctu.tees@newcastle.ac.uk
Get in touch
Privacy Notice

What is the purpose of this study?
Heart surgery to repair one of the valves in the heart (the mitral valve) is commonly performed in the NHS. Patients needing this operation sometimes suffer symptoms of shortness of breath (especially when exercising), tiredness, and swollen ankles, caused by the valve becoming leaky (mitral regurgitation). Some patients suffer very few symptoms. These patients are quite often of working age so time away from their place of work can be difficult for a number of reasons. We need to make sure that the operations offered within the NHS are best for patients. To repair the valve, the operation usually involves cutting the breastbone completely (from the collar bone to the bottom of the breastbone); this is called a sternotomy. An operation has been developed which means that the valve can be repaired using a much smaller cut on the side of the chest; this operation is called a mini- thoracotomy.
This study will compare the two operations in 400 adult patients, to see how well they recover and return to normal activities. The trial will include patients at NHS hospitals across England and Scotland. Patients will be randomised (allocated) to undergo one of the operations. The trial is large enough to show which operation is better for patients and the NHS. We will ask patients who take part questions about their physical activities and quality of life before and after their operation. We will also check other important factors to see how well patients recover, including how well their valve works up to twelve weeks and twelve months after surgery using a heart scan (called an echocardiogram). We will ask patients to wear a device that measures their activity for one week on seven occasions; the device looks like a wrist-watch and can be worn all day and all night. Any complications following a patient's operation will be recorded from their medical records. We will also calculate the costs of care for each operation by looking at medical records to see how often patients are seen in hospital after their operation. Patients who take part will attend hospital a few times in the first year, after this we will continue to check their progress by reviewing their medical notes. We will ask patients to confirm that they are happy that we keep looking at their medical records, even after the trial is finished.

What is the name of the Data Controller?
The Data Controller for this study is Newcastle University. Contact details for the Data Protection Officer can be found at the following link:
Data Protection Office Contact

What is the lawful basis for processing your data?
The lawful basis for carrying out this study under GDPR is Task in the Public Interest, (Article 6,1e) as research cited as part of the University's duties. As we are collecting special categories of personal data the second lawful basis is Scientific Research (Article 9, 2j). We have asked participants for consent to take part in the study.

How long will my data be kept?
Your data has to be kept from the end date of the study for a period of 15 years. This includes electronic and paper copies of the information. When data is archived the data will be completely anonymised.

What if I change my mind and want to withdraw from the study?
You are free to withdraw from the trial at any stage and your future care will not be affected. We ask you to sign a consent form; however you can still withdraw at any stage. The consent form covers who will be notified about your participation and what would happen if you became unwell (lose your ability to make decisions about your health care) after the operation. If you became unwell after the operation we ask for permission to continue to collect information so that we can identify all complications.

Who will you share data with?
Personal Identifiable Data will be shared with NHS Digital which allows them to flag your records as being part of the UK Mini Mitral clinical trial. De-identified data will only be shared with approved collaborators, whose research aims match or further the goals of this study. De-identified data is data which has had identifiable information removed. Study data will be kept separate from personal information (such as name or date of birth). No individual will be identified or identifiable in any publication arising from the research.

Will my data be looked after safely?
Your personal data are stored in a secure location within NHS Trusts and Newcastle University, with restricted access only given to the study team. Your name, NHS number and Date of Birth may be used in order to access NHS Digital data. All electronic data is stored on a secure network drive with access given only to the study member researchers. When data is shared information is restricted to the information needed to carry out the task.

Who do I complain to?
You have a right under law to raise a complaint with the Information Commissioners Office (ICO). The ICO is the organisation responsible for enforcing the Data Protection Law within the UK. You can do this using the link below:
Information Commissioners Office
Contact details of Newcastle University Study team:
Newcastle Clinical Trials Unit
Newcastle University
1-4 Claremont Terrace
Newcastle upon Tyne
NE2 4AE
Telephone: 0191 208 2522
Phone Calls

What is involved with the phone calls?
Telephone appointments are arranged 'with' you. We fit them around commitments you may have. You will be contacted by a 'research nurse' and the trial 'blinded assessor'. This means you will receive 'two' calls at 6, 12, 18, 24, 38 and 52 weeks after your operation.
During the research nurse phone calls you will be asked about your general health, problems and healthcare visits (or phone calls) with medical staff etc. It is sometimes useful to keep a record of these in a diary or on a calendar.
The blinded assessor is called Gerard Finn. Gerard is based at James Cook University Hospital in Middlesbrough. Gerard does not know and cannot know what operation you have had. This is so he doesn't accidentally influence your answers. Gerard will go through the same 2 questionnaires on each call he has with you.

Please tell me more about the questionnaires.
There are 2 questionnaires. The questionnaires are known as EQ-5D-5L and SF 36v2. They are used in lots of research trials. They are being used for the UK Mini Mitral trial to help us measure how quickly patients return to normal activity after their operation. They will also help us to measure your quality of life. For this reason the questionnaires will be filled in with you before you are randomized and at regular intervals for a year after your surgery.
Accelerometer

What is an accelerometer?
The accelerometer looks like a watch. The accelerometer will record your activity levels so we can see how active you are as the weeks pass. This information will help us see if there is a difference in activity levels between the two patient operation groups.

How do I use the accelerometer?
The first accelerometer is given to you by the research nurse who will explain everything. They are very easy to use. You will be shown how to 'start it' and asked to wear it for 7 days (day and night). Pre-paid packaging will be provided so you can post it back.

How will I get the accelerometer?
Research teams will keep a record of who needs an accelerometer and when. They will post everything out to you at the correct time.

Can I bath, shower, swim, exercise, work with the accelerometer on?
Yes, the accelerometers are completely waterproof and very robust.

Can I take the accelerometer off during the 7 days?
We prefer it if you wear the accelerometer continuously for 7 days. If you need to take it off we ask that you record when it is taken off and put it back on with a brief reason.

Do I have to pay to return the accelerometer?
No, all postage is paid for you. Place the accelerometer and paperwork in the packaging provided and post it back.
Miscellaneous

Am I too old, frail, ill to participate?
Not necessarily. If you are interested in participating research staff will be able to assess your eligibility. Please discuss this with your nearest participating hospital or the sponsor site (The James Cook University Hospital).
Get in touch

I have a special occasion, work, holidays coming up. Will this stop me participating in the trial?
All appointments are arranged 'with' you. You can change them if you need to. Please talk to the research nurse at your participating hospital.
Get in touch

I can't wear anything on my wrist. Does this mean I cannot be in the trial?
Not at all, there are many reasons why patients do not or cannot wear the watch (accelerometer). We can still gain a lot of valuable information from your participation in the trial without the watch (accelerometer).

What is a heart scan?
The heart scan used in this trial is an ultrasound scan. During the scan a clear jelly is put on your chest and the person doing the test will use a probe to take pictures of your heart. This is a very safe non-invasive test.

Are there patients who I can talk to?
Unfortunately we cannot give out contact details of participants, but we have included patient feedback, a participant experience video and links to resources on this site.
Useful Sites
Patient Experiences video
Patient Feedback
"When I participated in the trial it was nice to have the sense I was looked after. I think the research will benefit others."
-Jennifer, Trial Patient
"I feel really privileged I'm taking part in the trial, not only that, it will show people how easy it is."
-Charles, Trial Patient
"The research nurse was a good life line, could ring her any time and she put us at ease."
-Anonymous Trial Patient
"The study was carried out in a professional and friendly manner. I was reassured at all times."
-Anonymous Trial Patient
"Hospital and staff first class"
-Anonymous Trial Patient
"Thank you for enabling me to be a part of the research study."
-Anonymous Trial Patient
*Permission to publish anonymous feedback gathered by the Clinical Research Network North East and North Cumbria National Institute for Health Research was granted.
Patient Research Survey
We asked a sample of patients who participated in the trail to answer a few questions about their experiences of the process. Here are the results of that survey:
Blue: Agree
Yellow: Neither Agreed or Disagree
Orange: Disagree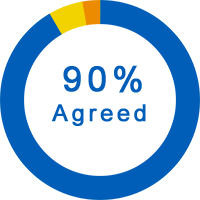 Quesion 1
The location of research study appointment(s) was acceptable.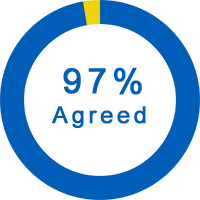 Quesion 2
Times and dates of research study appointment(s) have been acceptable.

Quesion 3
Research study information easy to understand.

Quesion 4
Individuals were given all the information needed in relation to the research study.